In this example we will use the MCP3008 to help us read the value of an LDR, as you will know the Raspberry Pi has no analogue input which can be a bit of a hassle considering there are a few sensors that requires this
The Microchip MCP3008 ADC is a 10-bit Analog to Digital (A/D) converter with on-board sample and hold circuitry.
Communication with the device is accomplished using a simple serial interface compatible with the SPI protocol. The MCP3008 operates over a broad voltage range (2.7V – 5.5V), and low-current design permits operation with typical standby currents of only 5 nA and typical active currents of 320 µA.
Features
10bit ADC
8 channels
SPI Interface
Sampling Rate: 200kSPS
Supply Voltage 2.7V to 5.5V
Supply Current: 425µA
16 pin DIP
Conversion Time: 10µs
Schematics and Connections
You connect the MCP3008 to your Raspberry Pi like this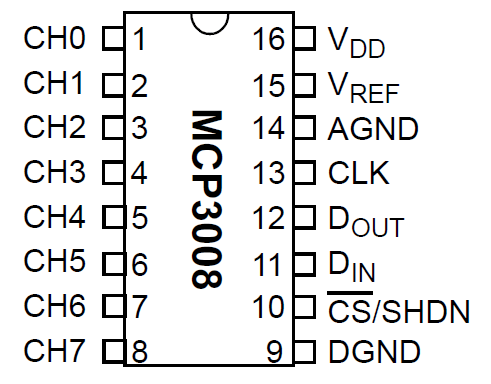 | | |
| --- | --- |
|  VDD |  3.3V |
|  VREF |  3.3V |
|  AGND |  GROUND |
|  CLK |  GPIO9 (P1-21) |
|  DOUT |  GPIO10 (P1-19) |
|  DIN |  GPIO10 (P1-19) |
|  CS | GPIO8 (P1-24) |
|  DGND |  GROUND |
Here is a sample layout on a breadboard with an LDR connected to channel 0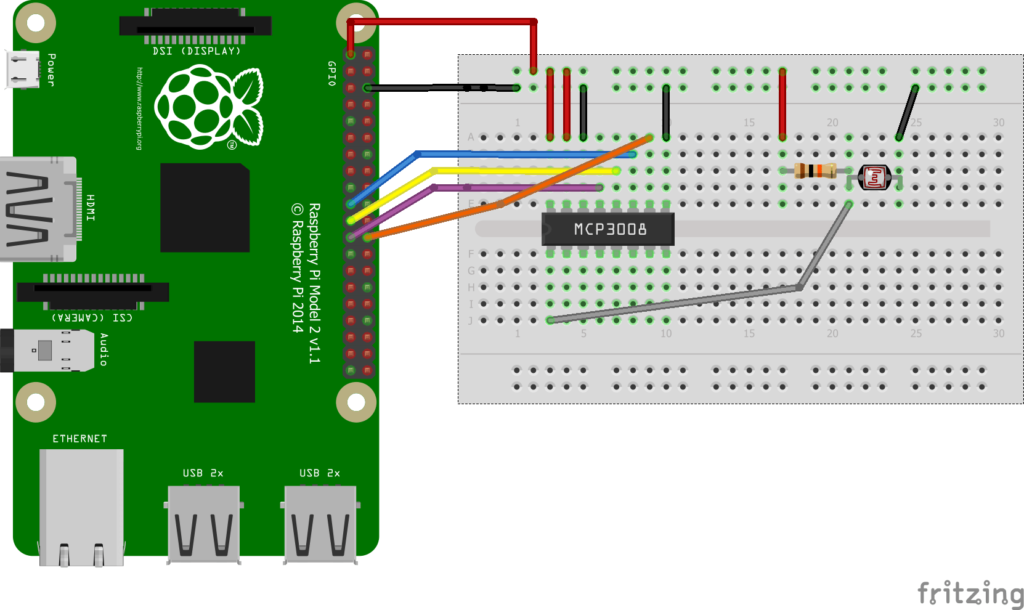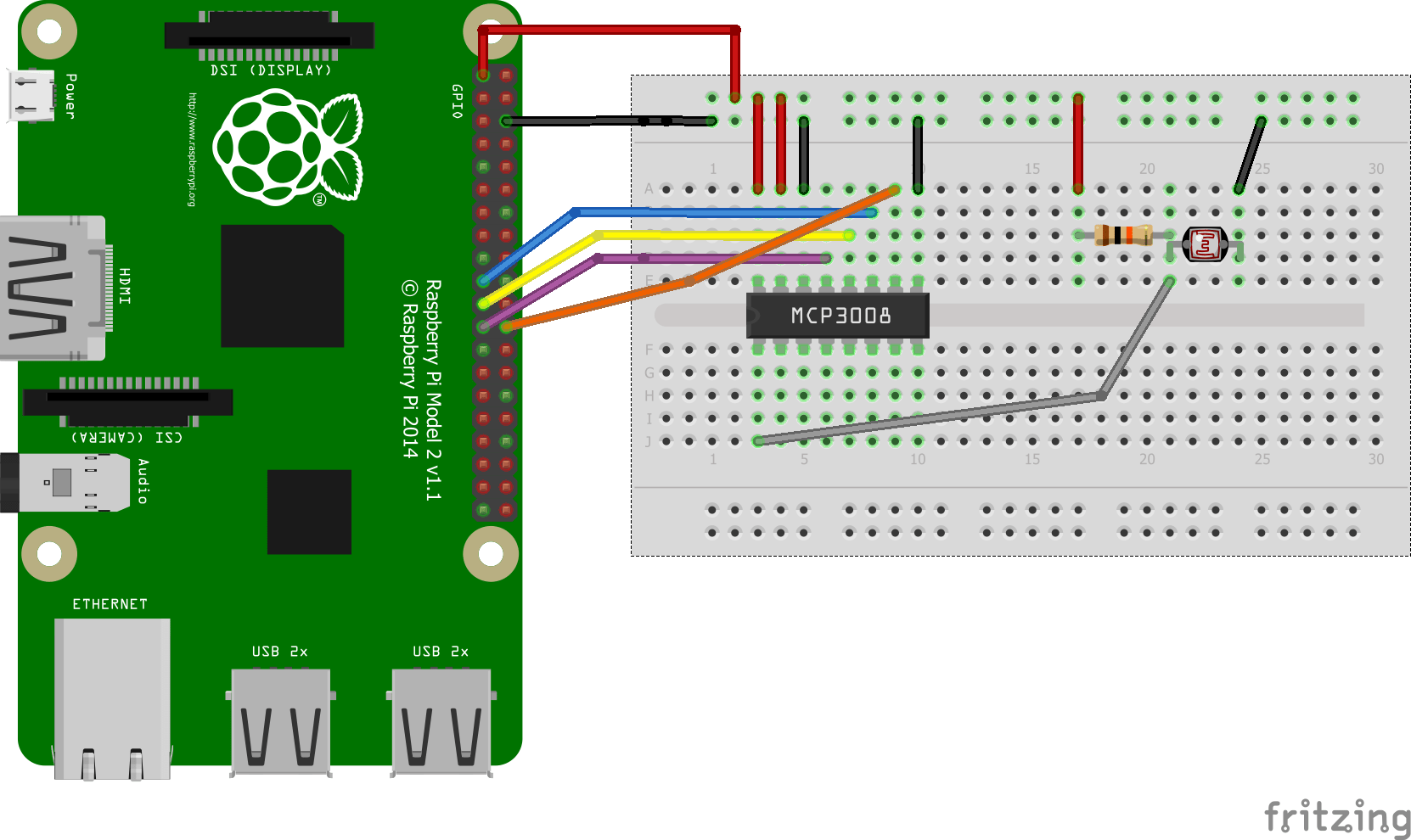 Code
I used the gpiozero library, here is how to install this
[codesyntax lang="bash"]
sudo apt-get update
sudo apt-get install python-pip python3-pip
sudo pip install gpiozero
[/codesyntax]
Now save the following as mcp3008.py or similar
[codesyntax lang="python"]
#!/usr/bin/python
import time
from gpiozero import MCP3008

divider = MCP3008(0)

while True:
    print(divider.value)
time.sleep(1.0)
[/codesyntax]
Run this from your terminal by typing in sudo python mcp3008.py
You should see a value outputted every second, now vary the light to the LDR by positioning closer to a light source, covering it up and so on
UPDATE
here is a code example that requires no library
[codesyntax lang="python"]
import spidev
import time

#Define Variables
delay = 2
ldr_channel = 0

#Create SPI
spi = spidev.SpiDev()
spi.open(0, 0)
 
def readadc(adcnum):
    # read SPI data from the MCP3008, 8 channels in total
    if adcnum > 7 or adcnum < 0:
        return -1
    r = spi.xfer2([1, 8 + adcnum << 4, 0])
    data = ((r[1] & 3) << 8) + r[2]
    return data
    
 
while True:
    ldr_value = readadc(ldr_channel)
    print("LDR Value: %d" % ldr_value)
time.sleep(delay)
[/codesyntax]
Links
You can pick these up quite easily for around $2 a piece.
MCP3008-I/SL MCP3008 SOP 8-CH 10-BIT SUCCESSIVE APPROXIMATION ADC SERIAL ACCESS